4 tips for choosing where to put your widget
The success of your widget will depend on how well integrated it is into your website. While every website is structured and designed differently, we've highlighted some best practices that will work for any type of website.
1. Place it on pages with content
Even if you are not a travel blogger or travel content site, having content on your page that pairs with the widget will help provide relevance and keep users on the page. A page with only a widget on it might be a quick and easy way to showcase our product inventory, but adding additional context to why you've featured these products will not only help provide relevance to your website audience but it could help your page rank better with search engines.
2. Look at historical data and web analytics
When deciding where to put widgets, you can use your historical website data to help inform your decision. Follow previous success, such as pages that saw a lot of newsletter sign ups or previous conversions. Pages with an above average time on site or low bounce rate indicate a captive audience, which will prove useful for earning commission from your widget.
3. Follow organic traffic or paid search traffic
Traffic from search engines or from paid search campaigns are keyword based, meaning that users are actively searching for these keywords and have high intent. By focusing on pages with high organic or paid search traffic, your widget will be in front of a higher quality audience as long as the users search queries match with what is featured in your widget.
4. Higher traffic doesn't always mean higher conversion
It may be tempting to only place widgets on pages with the highest pageviews, but it's important to understand why the page has high traffic. For example, many visitors may land on your homepage from a Google search. Most likely your homepage is a starting point for your website audience before they navigate to a blog post or a travel guide.
6 best practices for maximizing widget conversions
Your content goes here. Edit or remove this text inline or in the module Content settings. You can also style every aspect of this content in the module Design settings and even apply custom CSS to this text in the module Advanced settings.
1. Create as many widgets as you need
We made building and placing widgets on your site easy so that you can implement the widget across your site in a scalable way. Even if your only widget exists on your highest traffic page, you will be limiting your commission opportunity. Think of the widget as a call-to-action: you'll want to put a widget where you think users will take action.
2. Place the widget where it will be seen
The location of your widget will heavily influence its performance. You want to place it on a visible part of the page so that your audience can see it and interact with it. We know that many people are skimmers when reading content, so a widget towards the bottom of a blog post might not perform as well as a widget higher up on the page.
3. Be aware of banner blindness
Also known as "ad blindness," banner blindness is the term used to describe a website visitor consciously or unconsciously ignoring ads. If you place your widget among banner ads, users may "go blind" to it and not click on it.
4. Make sure it looks good on mobile
Our widget is mobile-responsive, so it will adjust to different sized screens like mobile devices. However, you will want to make sure that the widget fits nicely into your mobile site so you don't miss out on bookings made on mobile devices.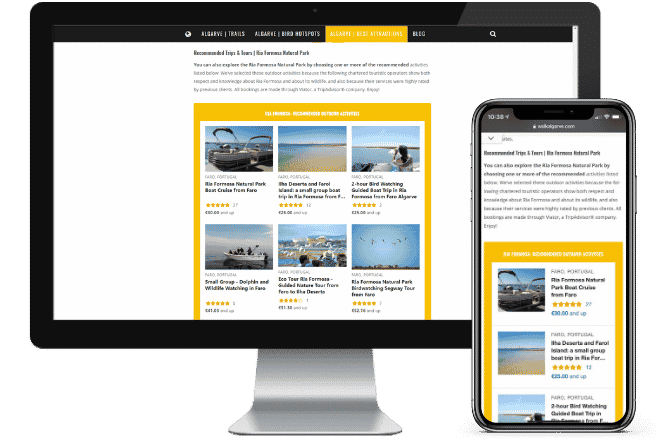 5. Choosing the ideal number of products to feature
When building your widget you have the option of including anywhere from 1 to 30 products in your widget. You will need to strike a balance between how many is too few or too many products to feature in your widget. Too few options might not provide enough variety and too many options might be overwhelming and take up too much space on your page.
6. Stick to one widget per page
Starting off, we recommend using one widget per page (i.e. we do not recommend putting two widgets on a page). This will ensure that your widgets do not compete against each other. If you want to highlight our product inventory throughout a page, we recommend using our affiliate links solution, which can be used in conjunction with widgets.