How to search for products
With over 300,000+ products on Viator, it's easy to feel overwhelmed when searching for the right product for your client. We've designed our website to make it easy to search for things to do and to narrow down results to find the perfect experience for your audience.
Using the search bar
While you can use the quick links that are on the homepage, the best way to find a product is to use the search bar. Our search bar let's you search for: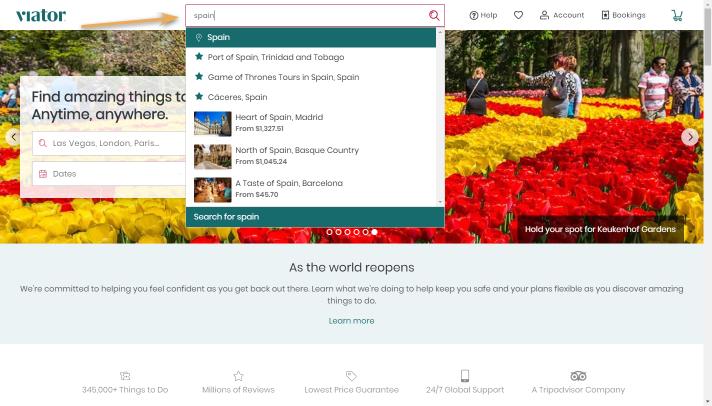 Categories & subcategories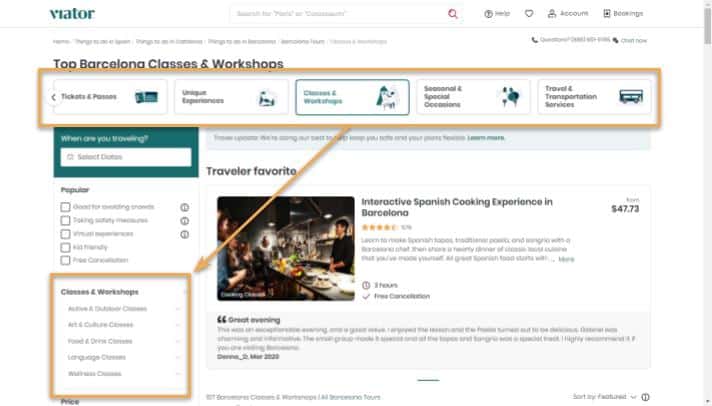 When searching within a country, region, or city, you can use the category bar at the top of the search results to narrow down your search.
These are high level categories and within each category there are sub categories.
In the example, we've selected the "Classes & Workshops" category and on the left panel there are subcategories (e.g. "Active & Outdoor Classes").
Use filters to refine your search
Even after narrowing down to a specific subcategory, there still can be a lot of products left to sift through. This is the best time to apply search filters, which can all be found on the left panel.
Travel dates / "When are you traveling?"
This will ensure that only the experiences that are available during your clients' travel dates will appear.
Price
Clients have budgets and this filter allows you to stay within that budget
Duration
Filter experiences by how long they'll take so you can keep your clients on schedule.
Time of day
Paired with the travel dates filter, this filter will help surface only the experiences available during a specific time period
Rating
Filter for only the experiences above a certain review rating
Specials
A variety of other filters, like "New on Viator" and "Skip-the-Line" add additional context to your search.
Sort by
Using the "Sort by" function allows you to order your search results so you don't have to scroll through products to find the perfect one. The sort by function can be found on the right side of the screen above the first product listing.