Now that you've done your keyword research, it's time to start integrating your keywords into your website content. Odds are, if you've already built your site and have written content, your keywords have naturally been included. But do not worry if that's not the case. In this post, we'll go through the next steps of on-page SEO, such as integrating keywords into your content
There are a few ways that you can and should integrate keywords throughout your website. Some are no-brainers, but some are just a bit technical. But first, let's go through how Google decides if your page can rank for a certain keyword.
Note: these are just some of the steps you can take to help improve your SEO. We always recommend doing your own research and adjusting your strategy based on your business' specific needs. 
How does Google rank your page on the keywords you've chosen?
There is no way to tell Google explicitly "I want to rank for this keyword." Instead, it's done in a less direct way: by integrating keywords into the content of your site. Google has a few ranking factors that it uses to rank your page in its search results, one of them is optimized content.
Google is able to read your content using the "Googlebot." Yoast*, a leading WordPress SEO plugin says this about Googlebots:
"Googlebot crawls web pages via links. It finds and reads new and updated content and suggests what should be added to the index. The index, of course, is Google's brain."
Simply put, if you are selling "Tokyo street food tours" and there's barely any mention of that in your content, Google will not rank you well on the "Tokyo street food tours" keyword.
How do I get my content ranked on a keyword?
Use keywords in titles/headers
A very obvious and beneficial thing to do is to put keywords in titles and headers. Not only will this help search engines gain a better understanding of the topic, it should also help your site visitors find relevance to your content.
Use keywords in URLs
Putting keywords in URLs can have a positive impact on your search rankings, but overall URLs are not considered a major ranking factor. Regardless of this, search engines and searchers like to see a clearly defined site structure as it is good for navigation and can provide additional context to both users and search engines.
Put keywords in meta descriptions
According to Yoast, "The meta description is a snippet of up to about 155 characters – a tag in HTML – which summarizes a page's content." Meta descriptions are the few sentences of text that appear below links on a search results page. Not only does this tell Google what your page is about, but it will also tell searchers.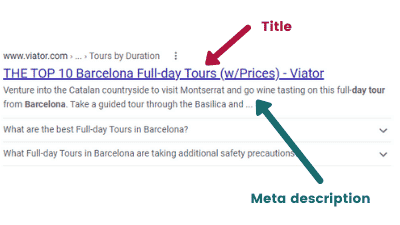 Implement keywords evenly throughout your content
A simple way of measuring this is through keyword density, although there is not definitive density, WordStream says "roughly one keyword per 200 words of copy is considered a good benchmark by the SEO community." And lastly, do not practice keyword stuffing as this can negatively affect your search rankings and provide an odd user reading experience.
How do I optimize my content further (on-page SEO)?
Write high quality content
As your website is a very public facing marketing tool, you'll want to make sure that your content is engaging and relates to your audience. You want your content to be original so it captures the attention of your audience and keeps them on your site. From an SEO perspective, if your content is poor or does not relate, your site visitors will likely leave without taking any action – that does not send a good sign to a search engine.
While there are statistical ways of evaluating high quality content (e.g. bounce rate and readability scores), human testing is a great first step. Reread the content yourself or have someone on your team reread it. Is the content confusing? Are there run-on sentences and spelling mistakes? Is there value to having this content on the page?
Links, links, links!
Linking to your own content, linking to other's content and links to your site from others are all part of a healthy SEO strategy. There are three classifications of links, each with their own purpose and benefits.
Inbound links
Inbound links are links to your site from other sites. Inbound links are great and add value to your oveal SEO, but we'll cover that later as inbound links are mostly beyond your control.
Outbound links
These are the links on your website that link to another website. While the full benefit of outbound links is small, it's important to note a few things about outbound links. First, by providing outbound links you can validate that content you're writing – you'll notice that in this post there are numerous outbound links. Second, outbound links are important for SEO in general, not just your website's SEO. Think of outbound links as "paying it forward."
Internal links
You're probably already linking from one page of your website to another. Those are internal links and are important to keep your site visitors on your site longer and to keep them engaged. By linking to related pages, you're building a content structure for your site that helps search engines make sense of your website and it's content.
Alt tags for images
"Alt tags" are what loads in place of an image when the image cannot be rendered. Beyond that, they also provide additional context for search engines. Search engines generally are not able to analyze images, so that's why alt tags are important for SEO. By describing an image in words, a search engines can use that to help rank your page. If you're using relevant images, you'll most likely be using your keywords somewhere in your alt tags. But it's important again not to practice keyword stuffing when using alt tags.
Don't forget about the design and layout of your site!
Although it's mostly subjective what makes good web design, it's important that you design and layout your site in a way that makes for a good user experience. When designing your website, it is more important to think about how easy it is to consume content, rather than how "pretty" your site looks. Ultimately, if your site visitors take a look at your site and they don't like what they see, they'll probably leave.
Make sure your page is loading fast
Nobody likes sitting there watching a page take forever to load, and that's why search engines use this as a measure of quality, as well as a ranking factor. Many site analytics tools (like Google Analytics) will be able to provide you with statistics on your site speed but there are also a lot of free services you can utilize that will give you diagnostic information on what exactly is causing your site to load slowly.
Large images
Especially in travel, it is tempting to let high resolution/high quality images do the talking. But large images can slow down page load times, especially when they are shrunken down automatically to fit on the page. By simply resizing large images, you can improve your load time dramatically
Too many plugins
If you're using a tool or content management systems like WordPress to build your website, there's no doubt that you'll have some sort of plugin downloaded. If plugins are slowing down your site, you might have to make some cuts if other optimizations are not enough.
Too many redirects
Managing your redirects is key for a lot of reasons, but a big reason is to avoid having redirects negatively impact your SEO. Redirects slow your site down as the user will first be taken to the original URL then will be taken to the updated URL. Although it may not seem slow to you, it's still slower than it needs to be.
Don't forget about mobile
It's easy to forget about or brush off mobile optimizations, but Google and other search engines have made it abundantly clear the importance of a good mobile experience – and they are even rewarding sites with the best mobile experiences.
There are a variety of free tools out there that will help you identify whether or not your site is optimized for mobile. When thinking about optimizing your site for mobile consider the following:
If you use a service, like WordPress or Wix, to create your site, considering choosing a design template or theme that is mobile-friendly. This will help avoid some of the guesswork that comes with mobile optimizations.
As mentioned above, you want to make sure your site is loading quickly on mobile devices.
Consider having a menu or navigation specific to mobile devices. Easy navigation is key to a great mobile experience and the menu/navigation you use on desktop may not translate well to a mobile device.
Design with mobile devices in mind. Your design template or theme may help you design for mobile devices, but it's important that you test your site on a mobile device to see how easy it is to use, read content, and take any desired actions (like filling out a form, or clicking on your Viator widgets or affiliate links).